Разработчики - TAGMT

(

The Amateur Gothic Mod Team

)

Перевод ptp_lsg.pdf с сайта Ragnarok Entertainment

РТР - Остров
(РТР - Рабочая тестовая версия)

Описание
Карл, убийца и вор, после своих злодеяний в Болотном Лагере убегает на маленький остров. Его преследуют два послушника – Тимот и Госслин. Игрок исполняет роль Тимота и его миссия заключается в том, чтобы обезвредить Карла.
Сначала эта маленькая модификация от Harri (TAGMT) служила для того, чтобы в работе тестировать изменения. Все деревья были заменены реалистично выглядящими моделями, которые колышутся теперь из-за ветра, как трава. Кроме того, все диалоги были озвучены, и в модификации звучит теперь немецкая речь. Остров также был внесен в Диккурик. Но только без своих квестов.
Модификация содержит 4 версии:
Остров, новая немецкая версия
Остров, новая английская версия (такая же, но с английским текстом)
А также соответствующие им старые (менее удачные в работе) версии.

Остров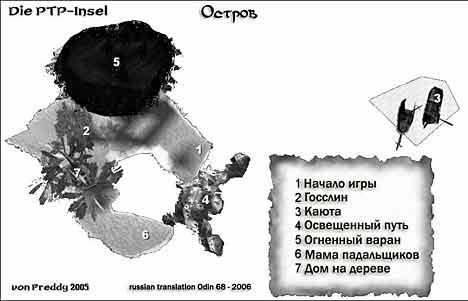 Начало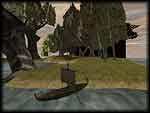 Из исходной точки идем к Госслину и получаем от него поручение.


Статуя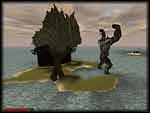 Чтобы попасть на статую, необходимо сплавать на близлежащий островок, на котором видны чьи-то обломки. На этом островке еще можно найти книгу и вырванную из нее страницу.
В каюте на корме корабля находится мумия. В инвентаре у нее руна телепорта. При использовании ее, попадем на статую.


Освещенный путь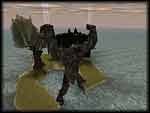 Герой прибывает на платформу на руке Исполина. От нее ведут магические дорожки. Видим, что магическое поле дорожки вспыхивает, если мы обращены лицом к ней. По ним можно добраться до колец и напитков:
2 Эликсира проворства
Кольцо озарения (+15 маны / +15 жизни)
Кольцо рудной кожи (+10 защиты от оружия)
Эссенция духа (+5 к максимальной мане)
Со статуи просто спрыгиваем в воду.


Сундук Госслина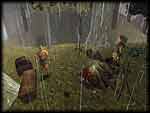 Госслин очень бдительно охраняет свой сундук и ключ от него. Нужно отвлечь его, что достигается простым обращением к нему. Он встрепенется и пойдет к огню. Теперь нужно быстро схватить ключ и опустошить сундук.
Альтернатива - можно выманить на него несколько монстров, они отвлекут его на время.

Огненный варан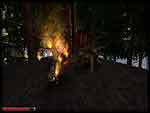 На лесном пригорке обитает молоденький Огненный Варан. С добытой из сундука "Древней робой магов огня" можно противостоять ему. Его язык даст нам магию "Огненная стрела".


Ключ от дома на дереве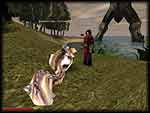 Ключ от дома на дереве находится в инвентаре Праматери Падальщиков. Проще всего ее одолеть, используя магию "Огненная стрела" (язык Огненного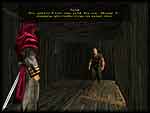 Варана). На самом верху дерева в хижине встречаем рыбака. Спускаемся за ним вниз и отправляемся к Госслину.


Карл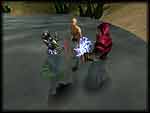 Теперь Карл показывает свое истинное лицо. Следует жестокая схватка (очень важно здесь для сопротивления магии облачиться в "Древнюю робу магов огня"). После победы находим в инвентаре злыдня книжку "Разработчики".
Прочее
Автор
Данное прохождение подготовил Fred "Freddy" Metger.

Ссылки
The Amateur Gothic Mod Team (разработчики Диккурика) www.diccuric.org
Прохождение Диккурика www.metger.net/diccuric
World of Gothic www.worldofgothic.de

Никакая часть этого документа не может быть опубликована без согласия автора.

Исключением является индивидуальная помощь (например, в качестве поста помощи на форуме).

Russian Translation by Odin68.
Роли были озвучены актерами Павлодарского областного драмтеатра им. А.П.Чехова:

А. ФЕДОРЕНКО (Тимот)
А. ДУБИНИН (Госслин)
В. ФАУСТОВ (Карл)
Любопытные факты
1. КаЮга после того, как мы его загнали в воду и почти добили, вдруг оттолкнулся и поплыл на спинке прочь от нас. Пришлось бросить к чертям процесс боя и срочно вводить Марвина, чтобы успеть переключиться на камеру и заснять на скрин это чудо! (вверху слева)

2. Во время того, как Рыбак заорал, что мы - "глупцы", и нам от него не уйти, так как он КаЮга, я вынул оружие и стал свидетелем очередного чуда:
Орк-шаман начал метать в меня "Шаровые молнии", я при содействии Госслина кинулся в контратаку, и тут из-за спины откуда-то выскочил Рыбак и начал сражаться на нашей стороне. После победы он повернулся и пошел в сторону моря (там, где в начале игры торчат 3 падальщика). Я решил проследить за ним. Один из падальщиков все еще торчал там (у меня до него просто руки не дошли). Так вот Рыбак забивает своей дубиной падальщика, причем опыт отдается мне за победу над монстром... Далее Рыбак заходит в воду и плывет в неизвестном направлении. Я за ним. В определенной точке он останавливается и начинает вращаться на месте, как если бы наткнулся на невидимую стену. К своему изумлению я прошел эту невидимую грань беспрепятственно. Мало того, с рыбаком даже можно было вступить в диалог. Только, естественно, кроме "Закончить" в этом диалоге не было.
Все это запечатлено на шести скринах. В Рыбака я ни разу не вселялся. Вот такой вот прикол!!! Скрины пронумерованы, порядковый номер высвечивается при наведении мышкой.